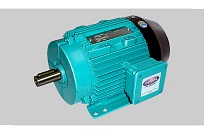 Products Description :
Crompton Greaves High Efficient Aluminium Motors are World class Electric Motors and available now in India, Aluminium body, light weight, low vibrations, Low noise and superior efficiencies. This range of motors produced by BCG is backed up by unmatched service by Crompton Greaves.
Range covers products with outputs from 0.07 KW to 11KW and widely used in a diverse range of applications of Aluminium Electric Motors from food and drink to water and sewage. From heating and ventilation to refrigeration. Some of the benefits of aluminium over cast iron, include, high resistance to corrosion and atmospheric attack (except chlorine, salt-laden or sulphuric acid) and the fact that aluminium is approximately one third the weight of cast iron.

Features:
Standard Motors are designed for foot mounting; other mountings are also available on request
Standard Levels of enclosure protection for motor and terminal box is IP55. With IP56,IP65 and IP66 available on request
All motors have terminal box on the top as standard. RHS/LHS terminal box can be converted simply by changing the detachable foot position..
Standard Paint shade is RAL 5021 water blue, others are also available on request
All motors of standard design are provided with Class F insulation with temperature rise limited to Class 'B'